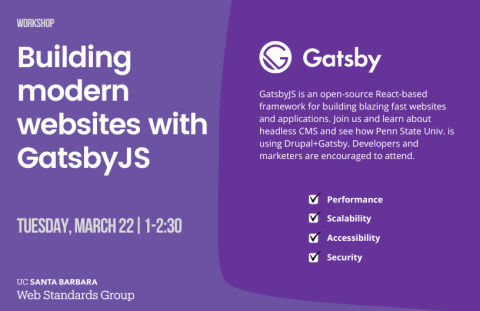 Gatsby is the fast and flexible framework that makes building websites with any CMS, API, or database fun again. Build and deploy headless websites that drive more traffic, convert better, and are blazing fast!
A traditional, monolithic CMS is responsible for both the backend management of content, and serving that content to end users. In contrast, a headless CMS is decoupled from frontend concerns, which frees developers to build rich experiences for end users, using the best technology available.
They will also be discussing the recent build of the Penn State University news site, which is a big departure from the typical static site generator project.
Hope to see you there!
March 22nd from 1pm - 2:30pm
Zoom link: https://ucsb.zoom.us/j/81857665358?pwd=bFNpMUJXMVo4YWNmbktrSzJlcUt2QT09
Sponsored by the Web Standards Group
---
POST-WORKSHOP UPDATE
Drupal + Gatsby Resources:
React + Gatsby Resources:
Gatsby/React Resources (blog)
Gatsby Tutorial (Doc)
Gatsby Bootcamp (video)
Gatsby & Static Sites (video)
Community developed (courses)
LinkedIn Learning Gatsby (course)
React + Gatsby (book)