The Web Standards Group (WSG) is a campus-wide community group for anyone involved in building UCSB websites, including developers, designers, and administrators.
The WSG has three main functions
Host a monthly meeting
Provide campus-wide trainings
Maintain a website w/ special access to members
All of these functions serve the greater goal of fostering a community around building UCSB websites, a community that can share standards-compliant guidelines and best practices, campus web-related news, and useful tools and resources.
Join WSG
To join the UCSB-Web Mailing List and receive meeting access, select 'Join the Group' at the top of the Google Group page. 
Current Co-Chairs
David Gurba | Web Programmer
Instructional Development
Ryan Vizena | Developer
Office of Public Affairs and Communications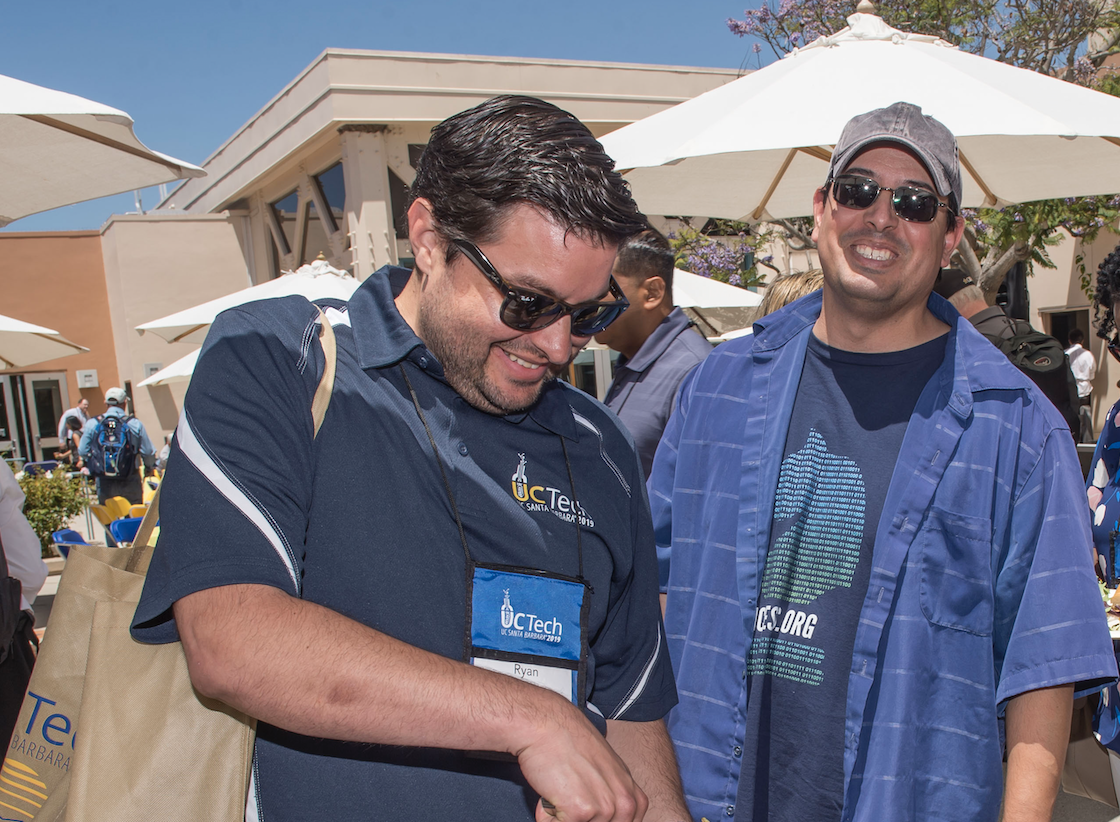 Past Co-Chairs
Thanks to the past WSG co-chairs who accepted the challenging task of leadership in this campus group over the decades:
Ryan Vizena

Denise Saludares
Gary Scott
Brian Wolf
Aaron Martin
Tiye Baldwin
Logan Franken
Guylene Gadal
Eric Mayes
David Gurba
Ann Dundon (primary Founder)
Google Sheet Attendance list
The below list of active WSG attendees (Name + Department). Thanks to those members past and present who have shown a passion and desire to collaborate and share their knowledge and experience in web development while at UC Santa Barbara.
Please check back later for our current attendance list.
18 Years Strong

Web Standards Group
The WSG was formed in May 2005 as a subcommittee of the New Business Architecture (NBA) group, whose mission is to champion campus-wide information systems strategic planning and coordination. Student Information Systems & Technology Associate Director Lubomir Bojilov conceived, proposed, and organized the subcommittee, and served as its first chair.
The WSG became a task-level subcommittee/working group reporting directly to the ITPG in Fall 2005. Work began on the initial version of the webguide shortly thereafter. The initial version was brought before the ITPG for acceptance in late 2006 and was finally approved by the ITB in January 2007.
The WSG is active in promoting development and training opportunities for web professionals at UCSB. Since 2006, the group has organized a large number of free workshops and Brown Bag forums on web standards, web accessibility, web applications security, web content management systems, and related topics. Video archives of recorded events are available through the UCSB Gauchocast service. The Office of Information Systems and Technology, the Division of Student Affairs, and the Disabled Students Program have provided support for this training.
In September 2012, the WSG organized a subcommittee to update the web guide, bringing the guide up-to-date with modern web development and design best practices as well as newer policy compliance and web accessibility requirements.
In 2013, amid restructuring of IT units within UCSB, the reporting chain for many of the ITPG formed working groups, including the WSG, was transferred to the UCSB IT Council.
In 2015, the webguide's underlying infrastructure was migrated from an on-campus hosted solution to Github using Github Pages. This was to allow more rapid content development within the webguide and broader community contribution and collaboration leveraging the Github platform.
In 2020, the webguide was transitioned to Drupal, the preeminent campus content management system. April 2021 saw the launch of the new site, coupled with a brand new Members Area for reviewing meeting minutes, extra resources, and more.